Finish Time: 2:53:50
Average Pace: 6:38/mile
Final Place: 14th out of 891
PRE-RACE
On Sunday, January 20th, 2019, I woke up in Baton Rouge, LA and ran my 11th marathon in my 10th different state. Overall, this was a very successful trip, and I was very happy to have been able to bring my family along for the experience. This will definitely be one of the marathon experiences that I will remember for a while. Now, let's talk about it…
Since this race was (somewhat) within driving distance, I was able to economically bring my family with me to watch me run. The race was scheduled to start Sunday morning, so we decided to pack the SUV and hit the road very early Saturday morning in order to make the roughly 8-hour trek from Atlanta to Baton Rouge. All went well Saturday morning, and we left the house in good time. The drive was uneventful, and we arrived at our hotel in Baton Rouge at around 2:30pm.
We had a great stay at this well-appointed and conveniently located hotel
Our hotel (The Watermark Hotel) was 5 blocks from the race start line and about the same distance from the Expo. After checking into our room, we walked over to the expo so that I could grab my race bib before everything shut down at 5:00pm.
Decent expo in a larger than necessary location. Very nice selection of customized race items.
The Expo was large from a square-footage standpoint but sort of small from a vendor standpoint. That resulted in the location dwarfing the contents of the Expo itself. That said, they did have all of the essentials - bib pickup, vendors, sponsors, and printed course information. The shirts that were included with the bib packets were really nice quality (soft poly-blend) and did not have any sponsor info on the back. The bibs included tearoffs for bag check and six stubs to be used for food/drinks at the finish line expo post-race (more on this later). The Expo also supplied poster board and markers so that spectators could make signs. While my wife and boys were busy making signs for me, Roy and Shana stopped by to say hello.
Roy and Shana came to the expo to visit me and the fam
After the Expo, we walked back to our room so that we could order some pizza before my early bedtime. As we walked back, we were assailed by violent wind gusts. The forecast called for 30-something degree temperatures and 15-20mph winds, which felt even harder as it blasted through the corridors of the downtown streets. While I knew the temperature would be great for running, I was moderately concerned about the wind.
The remainder of the evening was pretty uneventful. I laid out my race gear, watched television with the family, ate some pizza, set my alarm for 4:00am, and went to bed around 8:30 pm.
RACE DAY
Race day morning started out going perfectly as planned. I woke up at 4am and had some breakfast - vegan high-protein cereal with almond milk and a dry bagel. I also had some morning coffee for good measure. By 6:30am, I was fully dressed, and I started working on some light stretching. With (presumably) over an hour to go before I planned to leave the hotel, I was feeling relaxed while sitting around listening to music.
Shortly therafter the sun was starting to rise, so I walked over to take a look out of our large floor-to-ceiling hotel room windows.
This proved to be a day-altering moment.
I remember looking out of the window of my 12th floor hotel room. From this height, I could actually see the start line. "Man," I thought... "there sure are a lot of people out there already. It's way too cold to be out there an hour early." Just for peace of mind, I go to my phone to confirm the start time - yup, 8:00am. I look at my watch - it's 6:55am. I'm good. But then…
Wait no... it's Saturday's races that start at 8:00am. Let me check Sunday's time…
And then I see it. The Full and Half Marathon start time for Sunday is 7:00am!!!!
I look at my watch. It's now 6:56am... "#%&T!!!!!!!" I grab my my socks (mittens), gel packs, and hat and run towards the door.
"What's wrong!?" my wife asks as I run towards the exit. I yell, the race starts at 7 not 8!!! She says "What!!?? Boys let's go! Daddy's race starts in 4 minutes!!" "Do you need your sunglasses?" she yells down the hallway. "No!" I reply. That's the last thing I hear as I dash down the hallway to begin my 12 floor descent down the elevator followed by a mad dash through the hotel lobby and five block sprint to the start line.
A few minutes later, I'm flying down the street, and from two blocks away, I hear the countdown "5, 4, 3, 2, 1... boom! 💥 the cannon sounds.
A few thousand half and full marathoners are running towards me in the street as I am running in the opposite direction on the sidewalk. I'm dodging bystanders as I try to put on my hat, mittens, and the remaining two pins on my bib while in full sprint. After halfway knocking a couple of people over, I finally reach the start line only to find the corrals are all blocked off. So now I'm climbing over the barricade. I make it into the corral and cross the start line about a minute and half after the start.
Three blocks down the road, I pass my wife and boys waving and cheering me on as I run past (they clearly rushed to get downstairs in time to see me). Somewhere around here, I remember to start my watch. My heart rate is pounding, I'm stressed out, and I'm dodging people left and right. All I can think is that this is definitely NOT the way I wanted to start this race.
Within the first mile of the race, I catch up to and pass the 3:15 pace group. It takes a lot of work because I have to dodge so many people in front of me. I literally feel like a hall of fame caliber running back dancing through an infinitely deep defensive line. I'm like Barry Sanders in his prime. Left, right, speed burst. Surely not the most effective way to run a marathon... but this was clearly not going to be a traditional race by any stretch of the imagination.
By the second mile, I had a chat with myself. Okay Da'Rel, let's settle down. This is a long race, and you've got plenty of time to make up ground. One mile at a time; one pace group at a time; one person at a time.
Plot spoiler - I spent the entire 26.2 miles passing people. I wasn't passed by anyone outside of when I made a couple of portapottie stops.
After settling down, I ended up catching the 3:00 pace group around mile three or four. This was a pivotal moment for me, because I knew that I was under three hour pace. As long as I didn't let them pass me, I was set. During these early miles I was picking people off at a rapid pace as I continuously made my way towards the front of the field. I remember passing a little girl whom I heard tell her mom, "look mom, I think he's a professional runner!" #egoboost
By the time we made it to LSU, the field had thinned out a good bit, and I was able to really settle into a good pace. After going around LSU, the course winded along a lake on the left and many beautiful estates on the right. Many of the homes here had residents standing out front to cheer the runners on. I made small-talk with a few people, including a fellow Atlanta Track Club member who remembered me from the Westside 10-Miler and another guy repping Black Men Run. This portion of the race lasted for several miles as we headed back north.
Somewhere around Mile 11 or 12, the half marathoners split off from the marathoners and the course begins to head east. It was at this point that things really thinned out; however, the course was still beautiful. Along the way, we passed several beautiful homes and tree-line streets. It was quite picturesque.
It was shortly after the split that I saw Roy. Even though he told me he was coming out, I was still a bit surprised. I think that I was so locked-in on my race after that crazy start that I forgot to look for him. But nonetheless, there he was with the camera on me. It's always good to see a friendly face on the course. Roy captured lots of cool pics of me, including the one below (thanks man!). After passing him, the course continued east as we headed further and further away from downtown (and the start/finish line).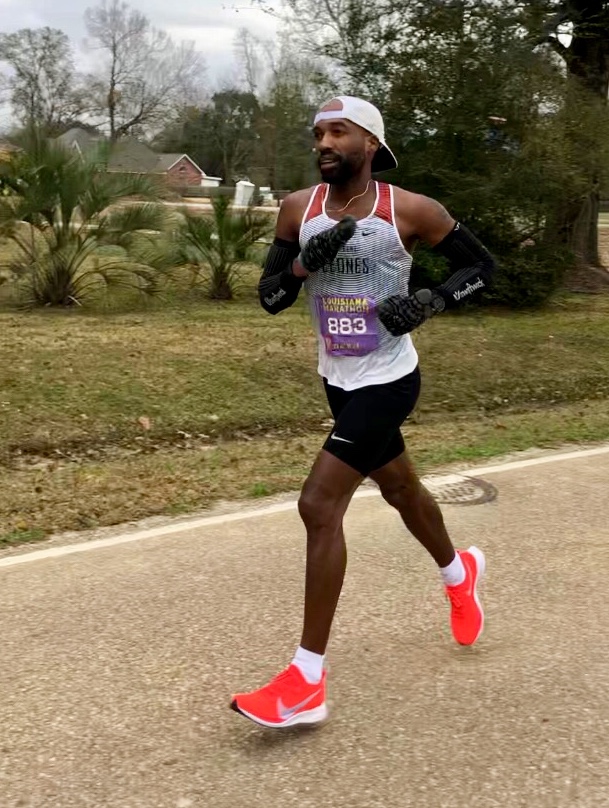 The eastern leg of the course was probably my least favorite; but that's nitpicking, because I still thoroughly enjoyed myself. The reason I call the section my least favorite is because it had a few harsh turns (including one 180 degree turn) and a couple out-and-backs. This is also the section where I found myself needing to stop twice to use the restroom. A big problem, however, is that my hands were so frozen, using the restroom became a surprisingly difficult task. This surely slowed me down some as each of the stops likely required 20 seconds or so. People would pass me as I made my stop, but then I'd eventually pass them back within a couple of miles.
Regular followers of my blog know that I typically break down my race recaps into segments; however, for this race, my splits were so consistent that I'm not sure my traditional approach is warranted. There was no big fade this time. My higher mileage training, longer long-runs, and extended period of training injury-free have all combined to increase my endurance. Taking a look at my splits, they were mostly all in the mid-6:30/mile pace range. Some exceptions are miles 15 and 20, both of which were a little off pace due to me stopping to use the restroom, and the first mile when I had to weave though the middle of the pack. My slight "fade" occurred over the last 3 miles when I fell off pace by about 15 seconds or so per mile.
red arrows reflect restroom stops
splits were pretty consistent… slight fade over the last 3 miles
I was extra proud of my ability to hold pace given that I was only able to take two of my four planned gels. My hands were far too frozen to retrieve my last two gels. So instead, I opted to take extra Powerade at each of the aid stations in order to make up for it. In hindsight, this likely contributed to my frequent restroom stops. Speaking of aid stations - I should note that the aid stations were plentiful (almost every mile), well-stocked, and equally well-staffed. Each aid station featured friendly and enthusiastic volunteers that seemed to know exactly what they were doing with the handoffs. Also, every aid station had water and Powerade and many had gels as well. I was truly impressed.
Also worth noting is the design of the course. The course was very well marked with mile markers at every single mile. Turns were clearly marked and often staffed as well. Every intersection was staffed with officers to block the traffic, and I never felt lost or unsure about when/where to turn. This may sound basic, but you'd be surprised how many races miss on the basics. As a runner, all of these small efficiencies were immensely appreciated. Combining the relatively flat course with all of the thoughtful elements described above, I'd definitely label this as a excellent course to seek a PR, BQ, or OTQ.
Once the race started heading back west, I knew I was closing in on the typically "tough" portion of the marathon. I remember hitting mile-22 and thinking that this is where the hurt typically starts. But just as quickly as the thought surfaced, I pushed it away. I did not want to entertain or provide space in my brain for negative thoughts. So I had to correct myself - I was at mile 22, and I still felt pretty good. At mile 23, I still felt pretty good. At mile 24 I still felt pretty good…. ish. Okay, now it was starting to hurt a wheee bit; not much though! Around this point, the full marathoners had rejoined the half marathoners and were running side by side; however, the street was divided to keep us on seperate sides of the road - another really nice and appreciated touch. The half marathoners were encouraging me along and this surely provided me with some much need encouragement at a time when it was most needed.
During mile 25, we come up to a bridge; crossing it felt like a little bump on the way out (at mile 1 or 2); but at this point, however, it felt much larger. This hill/bump (it was probably only about 20 feet or so at the most) was short so I just put my head down and powered through it. Once I crested the hill, it was just a quick right before the 5-block straight shot to the finish line. This final stretch was super cool - I was able to see my wife and boys holding their signs, and I had enough energy left to both notice and interact with them. I was still feeling pretty good, much better than I typically do at the tail-end of a marathon. Two blocks later, I saw Roy who encouraged me to push through the finish. I turned it up another gear and finished with whatever I had left, crossing the finish line in 2 hours, 53 minutes, and 50 seconds. That was good enough for 14th overall and 3rd in my Age Group. It was also good enough for yet another PR!
That makes three consecutive PR's in three consecutive marathons - 2:58 in SC (March 2018), 2:55 in NC (October 2018), and now 2:53 in LA (January 2019).
When I look back, I can easily remember each of the goals that I set for myself. I can also remember the sense of satisfaction that came with each goal completed. It was only a couple of years ago that I was striving for a BQ and a sub-3:00 marathon. Now, I have run four sub-3 hour marathons, and I am a few months away from my second Boston Marathon appearance. That said, I still have more goals on the horizon, and I believe that there is still much more that I can accomplish. For now, I'll continue to seek a sub-2:50 performance.
POST-RACE
The post-race festival was AMAZING!! Tons of food (including vegan options!), music, and fun. They even had a well-staffed kids section with a bounce house and several outdoor games to be played. The boys had a great time in this section while my wife and I had a chance to debrief on the race and eat some tasty free food. There was also a large outdoor stage with great music and dance performers - they really brought that LA culture and added to the entire experience. Although it was still a bit cold, we stayed out there for hours enjoying all that they had.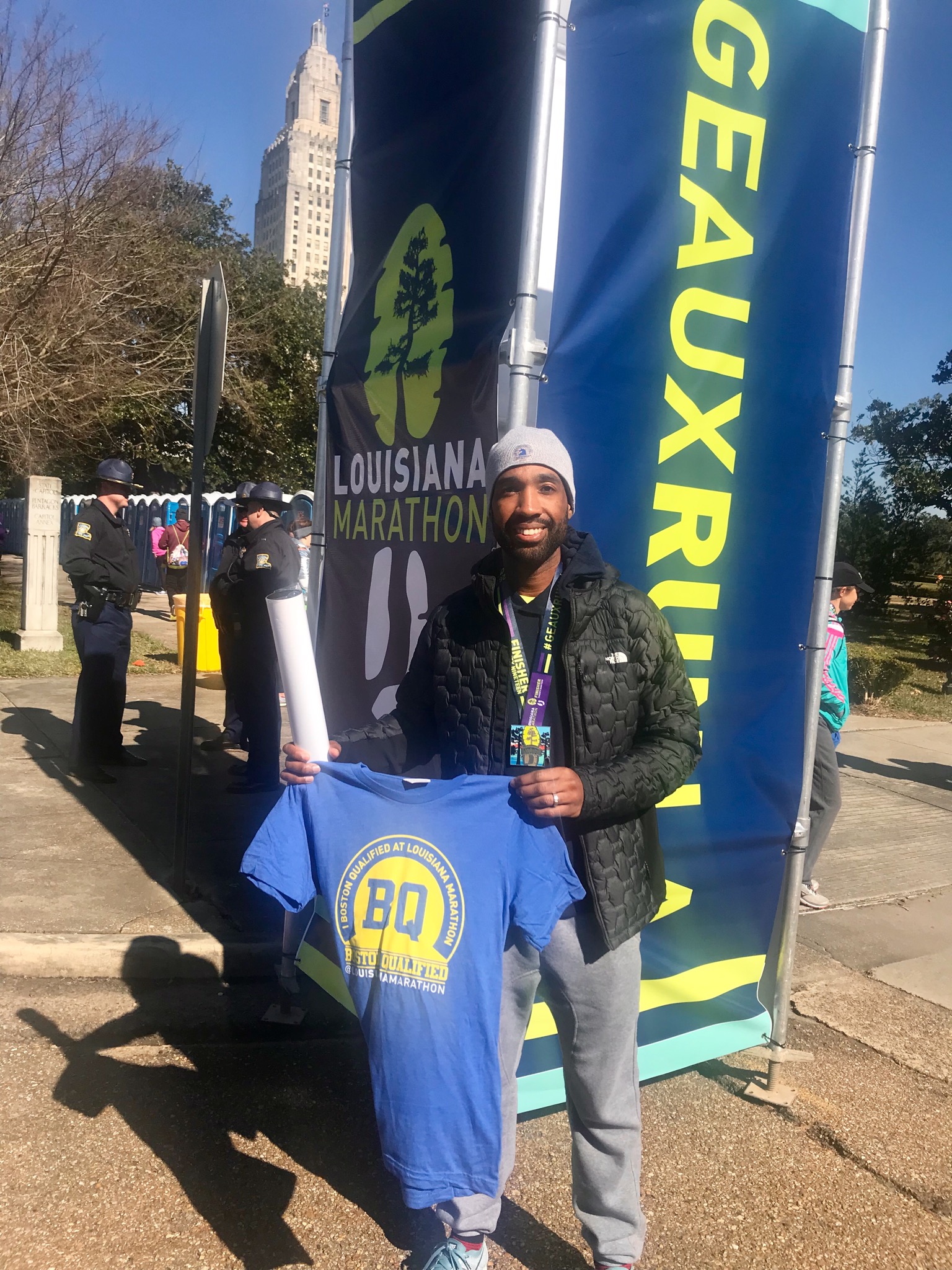 Nice touch by the race organizers to provide free high-quality shirts to every participant that ran a Boston-qualifying time at the race.
I was also able to collect my prize for getting 3rd place in my Age Group (a custom art print) and a free shirt for qualifying for Boston at the Louisiana Marathon. Both of these items were very much appreciated.
So yea, that's pretty much my experience in a nutshell. Until next time…
-Hic Svnt Leones